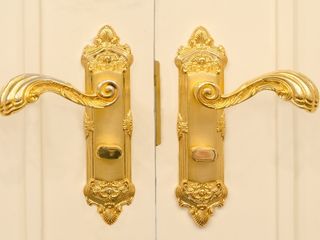 You don't find antique mortise door locks very often anymore, unless the house dates back to the '30s and the owner decided to keep the lock as reminiscent of the old age. Some might also get such locks today but only for decoration purposes.
They might be great for internal doors, but higher external door security is guaranteed when these systems are combined with deadbolt installation. Though, they still work. They still mean something to their owners and it's a pity to see them rust and deteriorate over the years when they can be easily cleaned and taken care of.
Take care of your antique lock
The basic characteristic of mortise door locksets is that they have a box lock, which is installed in a hole made in the door. That's why they are called "mortise" in the first place. So, if you want to clean or fix the mechanism, you must remove the screws of the plate keeping the mechanism hidden.
If you have these locks for ages, there is also a chance that the door has been painted a couple of times throughout the years. In this case, you might need to use a utility knife in order to cut the paint around the face place to make your life easier. If the screws have been painted too, it's best to replace them. If you have a hard time cleaning the lock, use a hairdryer to soften the paint or gently remove it with tools.
In order to remove the mechanism, you must remove the screws holding it in place. If the mechanism seems loose, check if something seems to be broken. In this case it's best to have the lock replaced or it won't lock at all. If you don't see any particular problems, just use canned air to remove dust and dirt and lubricate the metal components.
If you have trouble with the door knobs, you can replace them with similar ones. It's best to match the style you already have unless you want to combine the antique lock with a modern door knob. Just make sure the spindle connecting the internal and external door knob together fits okay. In order to remove the door knob, all you have to do is remove the screws of the knobs at each side of the door first. Pull out one side dragging the spindle along and then remove the other door knob, too. That's the easiest part of lock repairs!