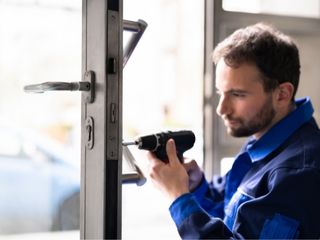 You probably don't give much thought to it, but the humble lock could be the only thing that keeps your business facilities, assets, and even confidential expansion plans safe from falling into the wrong hands. So if your locks become damaged from wear or vandalism, or you're in the unfortunate position of being locked out, get in touch with us. At Locksmith Beverly Hills, we thrive when your business thrives, and our priority is to make sure that you have problem-free access to your premises. We hold ourselves to the highest standards of service and are driven by a desire to exceed your expectations. If it's the changing, repairs, and replacements of locks, or help with access management that you're after, we're the business locksmith for you.
Bank On Our Expert Commercial Locksmith Services
Congratulations on the recent move into your new office premises! If they were previously occupied, we'd recommend to have your locks changed. Keeping the existing ones could be risky because the former occupants might still have keys to open them. Even if you've been told that every key was handed back, you just can't be sure that other duplicates aren't floating around. We're the best commercial locksmith to call when your locks need rekeying and we do the job quickly and professionally. We'll even suggest and install sturdier anti-bump commercial locks to further beef up your security.
Count on Our Fast Emergency Services
Can you imagine finding yourself locked out of your store just hours before you have to deliver an order? This has the potential to be a real disaster. Fortunately, you have a commercial locksmith on speed-dial who offers fast response services for days just like this. One of our skilled technicians will be on hand to assist you get back in without causing damage to the lock.
We Have Expertise In Access Control
If you manage a block of apartments, office or other rental property with many tenants, and you're shopping around for a new method to manage door entries, don't let the internet be your only guide. We're known for having the most knowledgeable staff when it comes to advising on the most up-to-date systems available on the market today. Choose a keypad option and get the flexibility of being able to give everyone a personalized entry code, or go for a card system - we'll tailor a solution and install whichever is most cost-effective for you.
Call us now for quality commercial locksmith services that won't let you down!